M1780 HD Commercial Manure Spreader
Specifications
Struck Capacity

780ft³ | 22.1m³

Heaped Capacity

1150ft³ | 32.6m³

Overall Height

140in | 356cm

Overall Length

375in | 953cm

Overall Width

138in | 351cm

Inside Body Height

65in | 165cm

Inside Body Length

240in | 610cm

Inside Body Width

78in | 198cm

Loading Height

126in | 320cm

Pto Speed

1000 RPM

Beater Speed

405 RPM

Recommended Tractor Class

200-340 HP

Floor Thickness

1/4in | 6mm

Side Wall Thickness

3/16in | 4.8mm

Standard Tires

445/65 R22.5 Radial

Recommended Tires

800/45 26.5 BIAS

Standard Wheel Assembly

Tandem Walking Beam
The Jaylor MMI mixer does a phenomenal job of handling wet distillers grains along with both high roughage rations and high energy corn rations.

Scott Schiff
Schiff Farms Inc.
Our Jaylor manure spreader is easy on horsepower and retains a lot of moisture. It's built for rugged terrain, and it's stood the test of time. We're thrilled with the performance.

Rob Sutton
Sutton Farm
The Jaylor M1780HD is the largest and most equipped Manure Spreader of the Jaylor Manure Spreading fleet. While the specifications of the M1780HD spreader are impressive, the machine is built with simplicity and rugged working conditions in mind.
Operators will appreciate the quality of engineering and production, allowing for years of trouble-free performance.
The M1780HD features a 780ft3 struck capacity and a generous 1150ft3 heaped capacity, allowing for large quantities of spread medium to be spread over larger properties.
The Jaylor M1780HD is also equipped with commercial-grade highway axles and breaks, along with oil bath hubs. These features allow the chassis to be virtually maintenance-free.
Features
Hydraulic Brakes
Overrun Clutch Gearbox Protection
High-Speed Cambered Commercial Axles
Manual Implement Jack
Wood Protection Rail
Large Viewing Window
Spring Suspension Tongue
LED Road Lights
Dual Floor Chain Drive Gearboxes
Commercial Grade Tubular Chassis
Grade 100 Floor Chain w/ One Piece Slat
Heavy Duty Walking Beam Axle
7 Position Adjustable Axle
Safety Chains
Standard Features
HD RT1000 Floor Chain Drive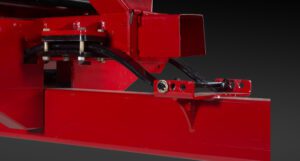 HD Spring-loaded Tongue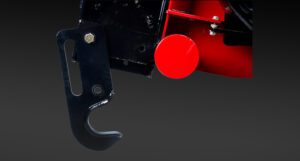 Rear Beater Assembly Unhooked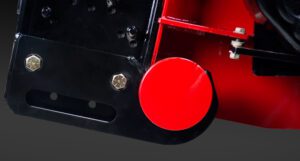 Rear Beater Assembly Hooked
Videos
Jaylor M1670 Manure Spreader Pen-Pack Demo
Jaylor Introduces New Manure Spreader Line