Jaylor Fabricating Inc. of East Garafraxa has been named the winner in the Dufferin board of Trade (DBOT) in the category for Employer of the Year Award, sponsored by Headwaters Tourism. The awards were presented on October 15, 2015 at the Best Western Plus Orangeville Inn & Suites and began with informal networking, cocktails and hors doeuvres presented by local purveyors of fine foods; Lavender Blue Catering, Rosemont General Store, Landman Gardens and Bakery, Fromage and the Edge Wine Bar and Grille. Attendees were wined and dined all evening with delicious local food and a superb dinner prepared by Gourmandissimo. Guests at the awards ceremony were entertained by the Humber College Jazz Trio, and were inspired by a keynote address by Jesse Tipping, President of the Athlete Institute in Orangeville.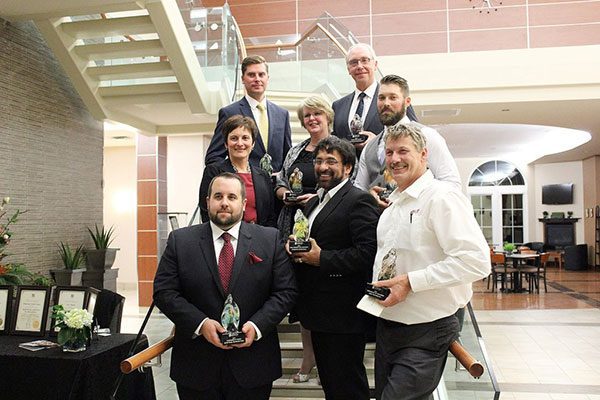 "Everyone at Jaylor helps our business succeed, winning this award will encourage us to continue to hire top caliber employees and challenge us to remain a top employer in the county" says President Jake Tamminga.
Jaylor extends congratulations to all of the nominees and winners at the 2015 Dufferin Business Excellence Awards. The competition in every category was very impressive.
Jaylor Fabricating Inc., is located in Dufferin County, Ontario and Manufacturers TMR mixers for the beef and dairy industry. With 25 patents currently on the mixer and an additional 7 pending, the Jaylor Mixer has earned a reputation as a leader in the business, Jaylor was built upon word of mouth and success on farms. Its reputation for high quality spread rapidly, ensuring Jaylor mixers were soon distributed throughout North American and 44 countries world-wide. Today Jaylor is a successful international corporation, but has never forgotten where it started and still maintains its roots firmly planted on the farm, with its production facilities located in rural Ontario.