30 Years of Innovation
Jaylor was built upon word of mouth and success on farms. Since 1993, its reputation for high quality spread rapidly, ensuring Jaylor mixers were soon distributed throughout North America and over 50 countries world-wide.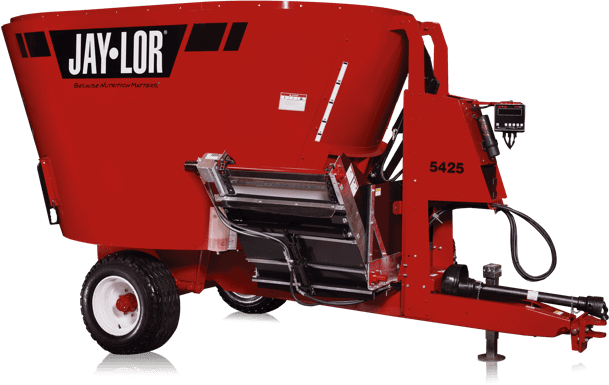 Vertical TMR Mixers
The Simple Solution
Jaylor Single Auger TMR mixers are available in a variety of configurations ranging in capacity from 350 to 575 cubic feet. They are ideal for feeding small to mid-sized dairy and cow-calf operations, medium-sized beef feedlots, especially backgrounding and grower operations. Each one is an industry leader in its class at quickly processing round or square baled hay and/or baleage into uniform rations that will resist sorting. All these mixers come standard with the patented Jaylor augers and the full range of innovations, warranties, and with a full range of options to create your tailored feeding solution.
View Features
What Our Loyal Customers Are Saying
Jaylor has justifiably earned the reputation of building the most durable and reliable mixers in the industry.
Following the purchase of our Jaylor 5425 mixer, cows have increased the rate of fat production, and they are much healthier. As a result, calving is more successful and previous challenges are virtually absent.
Guillaume Laroche
Rochela Ferme

After 14 years, our Jaylor is still going strong. Over 60,000 loads, it's still mixing. It has been the most durable and long-lasting mixer we have ever owned.
Dave Couchman
Modesto, California

We have a 2500 head dairy herd, milking about 2100 head, while running 7 Jaylor mixers on all of our TMR work, milk cows and heifers, replacements, and some steers.
Adam Robey
Robey Farms